Crowning the East of England Regional Joint Council Apprentice of the Year 2020
And we are pleased to announce the winner is…
And we are pleased to announce the winner is… Ellena Steward, West Suffolk Councils – our East of England Regional Joint Council Apprentice of the Year 2020. Congratulations!
Following on from the success of our two Apprenticeship Challenge heats in January and February, the winners from each round, Katy Whiting, Broadland and South Norfolk Councils and Ellena Steward, West Suffolk Council, went head-to-head to battle it out to be crowned overall champion.
You can find out more about Heat One and Heat Two by reading our previous news stories.
In the battle to be crowned Apprentice of the Year, each winner was given two tasks, which were then judged by the Regional Joint Informal Group to determine the winner:
To develop and produce a short 2 to 3 minute 'digital' clip on the following topic – 'What do we need to do to promote apprenticeships within Local Government as exciting, valuable recruitment and development opportunities?'
And
To develop a practical marketing electronic leaflet (maximum of one sheet A4) which all councils in the region can use to promote apprenticeships as part of their recruitment and talent development activities
The standard of the submissions received was exceptional and the Joint Informal Group reported back that it was a very tough decision to make. The videos and leaflets were each presented uniquely, using a wide range of digital skills, and the overall message was clear – there is a lot to be gained from local government apprentices, both for the sector, and on a personal level for each apprentice too.
Congratulations to the East of England Regional Joint Council Apprentice of the Year 2020 – Ellena Steward, our winner, from West Suffolk Council, and runner-up Katy, Whiting, Broadland and South Norfolk Councils. Both Ellena and Katy will be invited to the Regional Joint Council meeting in September to be presented with their official 'Winner' and 'Runner up' certificates, and to showcase to the group their video and leaflet submissions. Ellena will also receive a 'golden ticket' to the first day of the LGA Annual Conference and Exhibition 2021 (with overnight accommodation) to continue her development journey.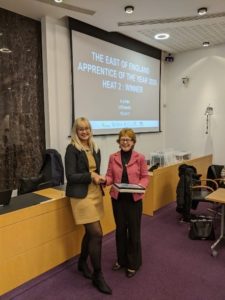 (Photo: Ellena Steward, West Suffolk Council, The East of England Regional Joint Council Apprentice of the Year 2020, pictured at Heat Two of the Challenge with Julie Cooke, EELGA)
Resources produced by our finalists will be available for local authorities to use to promote apprenticeship in Local Government across the region.
Congratulations to all the apprentices and mentors who took part in both heats of the apprenticeship challenge and of course to our finalists – the events have been a collaboration between the East of England LGA and Breckland Training Services with valuable support from Norfolk County Council and Essex County Council, and a real celebration of apprentices in Local Government. Every apprentice who took part in this years challenge has proven they are a real credit to their local authority and beyond.
Councillor Bob Deering, Hertfordshire County Council, Portfolio Holder for Apprenticeships for the Local Government Employers Panel stated that the apprenticeship challenges have been "terrific events for recognising today's apprentices and spotting future leaders. Well done to all who participated."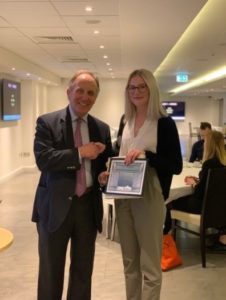 (Photo: Katy Whiting, Broadland and South Norfolk Councils, Runner up Apprentice of the Year 2020, pictured at Heat One of the Challenge with Cllr Bob Deering)
If you would like any further information about apprenticeships, to share your apprenticeship success stories or to find out about opportunities to celebrate apprenticeships in 2021 please contact:
Julie Cooke: Julie.Cooke@eelga.gov.uk
Emma Grant: Emma.Grant@eelga.gov.uk