East of England Apprenticeship Challenge, Heat Two Results
The East of England Local Government Association (EELGA) worked alongside Breckland Training Services and Essex County Council to hold the second heat of their annual Apprenticeship Challenge. The event saw more than 30 apprentices take part in a series of challenges that tested their political awareness, time management and team working skills.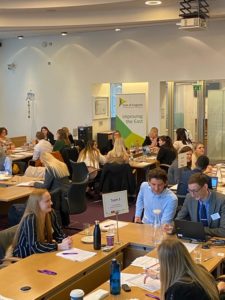 Lucy Ashwell, Senior Manager at the East of England Local Government Association, said: "Events like this are extremely valuable to both the delegates and the sector.
"Nurturing and recognising talent is something we strongly believe in at EELGA the apprentice challenge is the perfect opportunity to do just that. Apprenticeships are a great way into the public sector and the learning that takes place on the way is second to none.
"We are always impressed with the level of knowledge and skills displayed by the delegates and the sector is in very safe hands with this cohort of apprentices."
Richard Willis, Managing Director of Breckland Training Services, said: "After the success of the first heat we were extremely excited to see what the delegates would bring to the table and we were not disappointed.
"We created a variety of different training exercises that were each designed to test the delegates in both an individual and team capacity. Each task tested different skills including communications skills, customer services skills, teamwork and were based around being recruited onto a general apprenticeship course at a fictional local authority.
"Throughout the day we were blown away with how the delegates (all of whom are a current or recently qualified Level 2 or 3 Apprentice working in Local Government) responded to each individual task, utilizing their own knowledge and drawing on different attributes and skills from their team members.
"Their ability to work together and communicate effectively contributed to their success and showed in every task they completed. The standard shown throughout the day was exceptional and I'm proud to say that this cohort of apprentices are up and coming in our sector."
Congratulations to everyone that took part in the event. Five of the apprentices were highly commended, and then crowned runner up and winner for heat two: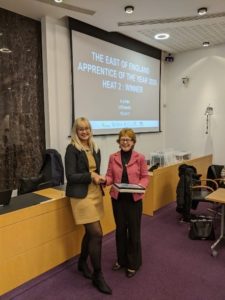 Winner – Ellena Steward, West Suffolk Council
Runner up – Marina Matherson, Babergh and Mid Suffolk District Councils
Highly commended:
Georgia Tarbuck, Babergh and Mid Suffolk District Councils
Maggie Rankin, Epping Forest District Council
Emalie Calderbank, Colchester Borough Council
Ellena Steward, Level Three Business Administration Apprentice, winner of heat two, said: "I'm thrilled to have had the opportunity to take part in the event. To win the event is a great achievement and I can't wait to to take the skills I learnt back to the work I do at West Suffolk Council.
"I would urge every apprentice working at a local authority in the East of England to take part in events like this. It was a great opportunity to meet like-minded people and gain lots of valuable skills.
"I'm looking forward to taking part in the finale and am excited to see what it holds."
The event was hugely successful and offered a great opportunity for development for both the delegates and mentors.
Ellena will now go head to head in a task finale against the winner of the first heat, where one of them will be crowned East of England Apprentice of the Year. They will also receive a very special prize and presentation.
For more information about the apprentice challenge even that took place, visit the events page here. If you would like any further information about apprenticeships please contact:
Julie Cooke: Julie.Cooke@eelga.gov.uk
Emma Grant: Emma.Grant@eelga.gov.uk