Jobs in Local Government in the East of England
HR Advisor (Transformation) with the Employer Services team at EELGA

Duration: Maternity Cover (up to 12 months)
Starting: Ideally mid-May 2023
Hours: Flexible, up to 30 hours per week (open to discussion)
Remuneration: Up to £37,000 per annum (pro-rata)
We will assess applications as they come in, therefore this vacancy will remain open until filled.
Can you cover Carly's role in our team for around 12 months?
Great regional role opportunity to work alongside our 50 councils in the East of England.
Develop your skills beyond the requirements of an internal HR team.
We encourage applications from candidates with an understanding of local government national terms and conditions of employment.
Flexible opportunity – can be offered on a secondment basis from any council (we work from home so location is not a key factor).  Can be part-time and/or on a shared basis (for example: 2 days in your own council and 3 days with the East of England LGA (EELGA)).
Fantastic and high performing Employer Services team – offering trust, autonomy, opportunity to develop new skills and knowledge, fun and laughter (and of course a salary of up to £37K (pro-rata)).
You can discover more about the role in the job description and person specification: JD and Person Specification – HR Advisor (Transformation)
Click here to hear Emma from the team tell you more about the role on LinkedIn!
Here's the team at one of our invigorating and motivating away days (we always choose venues with delicious food!):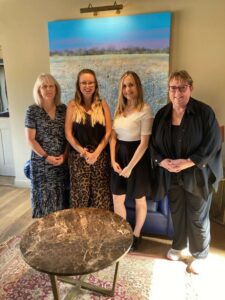 Interested? We'd love you to email us in the first instance at [email protected] – telling us how awesome you are and a little bit around how you meet the job description and person spec for the role.  We welcome any questions you may have and we are happy to have a confidential, informal chat with you in the first instance if you would like to speak with us before applying.
---
If you would like to advertise a vacancy here, then please contact us and one of our team will get back to you.