Virtual Event Management
Case study on East Suffolk Councils virtual event.
In November 2020, Jayne Cole, EELGA's Event Coordinator, successfully event managed a week long programme of virtual events on behalf of East Suffolk Council. This included delegate management, set up of online booking system hosted through EELGA's website, liaising with speakers, organising and hosting sessions through Microsoft Teams.
Read below to find out how Jayne used her skills and expertise to meet the brief, ensuring excellent results.
Case study provided by Luke Bennett, East Suffolk Council
Event Brief:
The decision was made pre-Covid for the East Suffolk Community Partnership Board to host a one-day high-profile conference in East Suffolk for representatives from our communities, voluntary organisations, public services, and businesses. However, government restrictions on events / social contact due to Covid-19, coupled with uncertainty over timescales for easing restrictions and the possibility of sudden local lockdowns again in the future made this unworkable.
The following options were considered:
Stay the same and organise a conference, but with the disclaimer that it may be cancelled at late notice
Organise a virtual event
Organise a highbred event with fewer delegates (with adequate social distancing) and some online/virtual content
The decision was made to organise a branded 5-day programme of virtual events.
Support Provided:
To inform the initial options appraisal, Jayne quickly researched into a wide range of virtual/hybrid event options to help us make an informed decision on what direction to go. Once the decision was taken, Jayne worked with me to reshape the conference into a 5-day event (this had to be done quickly as by then time was against us). Jayne encapsulated our conversations into an event plan identifying who needed to do what by when.
Jayne worked incredibly hard on delivering her elements of the event to time and to a very high standard. She also had a crucial role as the first point of contact for delegates as well as facilitators.
Event follow up was also provided, Jayne firstly undertook a delegate survey and provided a report on its findings and secondly worked with me on a review of the event including lessons learned that will be invaluable when organising future conferences.
Result:
An excellent event, that was well-received by delegates. The sessions provided East Suffolk Council with valuable outcomes to work into future plans.
The event in numbers:
Hosted 10 separate sessions (and an 11th additional Fringe Event)
Participated in a total of 16.5 hours of presentations and discussion
Welcomed a total of 208 delegates
593 individual bookings over the 10 sessions, as most people attended more than one.
Delegate feedback on the elements Jayne was responsible for was excellent. Delegates were asked the following question:
Overall, how would you rate the organisation of the event (website information, booking system, joining instructions, support):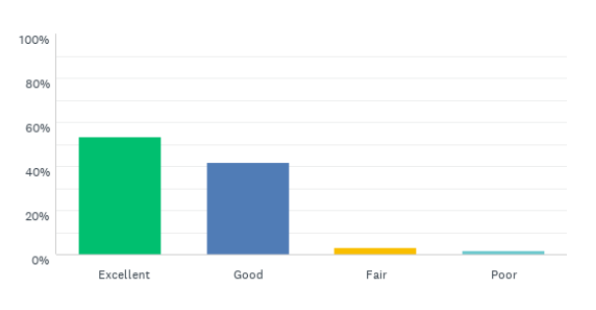 Luke Bennett, Partnerships Manager at East Suffolk Council, remarked that
"Jayne was crucial to the success of our very first virtual conference. Her positive attitude, excellent communication skills, attention to detail and laser-like focus on completing the task gave me complete confidence and made her a complete joy to work with.

I look forward to working with Jayne again in the future."
---
If you are interested in hosting an event and need Jayne's skills, please contact her at [email protected]