Local Government Apprentice of the Year 2022

Over 100 local government apprentices from across England participated in this year's event on 25 and 26 May 2022, working in virtual teams to showcase their skills, expertise and initiative in a fast-paced, immersive day.
The apprentices faced a range of tasks designed to assess their self-awareness, team working, political awareness and many other skills and behaviours. They were also challenged to produce a communication strategy document which was judged by a panel of communication experts from the local government sector. As well as working within their teams, they also had the chance to network with each other, and they heard from the Apprenticeship & Skills Minister, Alex Burghart MP, as well as having the opportunity to ask some him some questions.
On day two of the event, all participants were invited back to hear from Steve Rotheram, Metro Mayor of the Liverpool City Region and the winners were announced.
This year's winner and Local Government Apprentice of the Year 2022, is Chantelle Holt, Revenues Officer (Business Administrator Level 3) from North Norfolk District Council. Chantelle said that she was "shocked, delighted and honoured to be crowned this year's Apprentice of the Year". Chantelle represented North Norfolk District Council as one of five apprentices who took part in the event.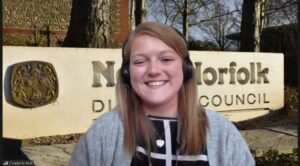 She said, "what an incredible way to celebrate Local Government apprentices up and down the country, bringing them together to meet other colleagues from all walks of life to come together for a common goal. The day itself was very full-on and intense but made clear and easy by our hosts and development leads. A huge congratulations to the other winners and to everyone who took part in this event, it has been invaluable. I have learned a lot about myself, my skills and my working style and I'm so grateful to be able to bring that insight back into my role as a Revenues Officer and beyond. This is only the beginning of my career and I cannot wait to see where this will take me".
The runners up are:
Andrianna Antoniou – Senior Care Supervisor (Level 3 Team Leader/Supervisor) from Dudley Metropolitan Borough Council
Olivia Watts – Planning and Communities Apprentice (Business Administrator Level 3) from Babergh and Mid Suffolk District Council
This year's winning team is team 5 which consisted of:
Ruth Tunnicliffe, Business Services Assistant, Derbyshire County Council
Sam Geden, Business Support Apprentice, Essex County Council
Joshua Coogan, HR Apprentice, South Cambridgeshire District Council
Sean Mclean, Business Support Apprentice, London Borough of Camden
Macy Loasby, Administration Officer, Sefton Arc (Sefton Council)
Hiba El Barhdadi, Procurements and Payments Apprentice, Oxford City Council
Ackeem Hillman, Civil Enforcement Officer, Tunbridge Wells Borough Council
Oliver Kearney, Customer Services Apprentice, Torridge District Council
Andre Russell, Apprentice Community Development Worker, Warwickshire County Council
Everyone who participated was a real credit to the local government sector. We will be bringing you updates and case studies on some of our winners and participants, their local authorities, managers and others involved in the delivery of this event, so watch this space!
We want to share our sincere thanks to everyone who participated and helped make this another successful event.