Get to know Simon Payne - Talent Bank Associate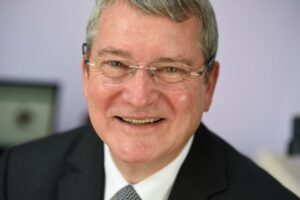 Tell us about yourself:
I really can claim to have worked in local government as 'man and boy'. I started in the Planning Office at Birmingham City Council in 1974 which was a time of great change for the city, introducing meaningful public consultation and moving from comprehensive redevelopment to renewal of the existing homes and businesses. My next role was at Stratford on Avon: a rural area of high quality environment, where considerable growth pressures and a fully engaged population provided a rewarding challenge. Appointment as Director of Planning at Cambridge followed with the most exciting opportunities to guide large scale high quality sustainable growth whilst protecting the special character of the city. In more recent years I have worked on local plans and new communities in Uttlesford in Essex, which has been similar to my experience in Warwickshire.
Forty seven years in local government, including work in Germany, has taught me the importance of striving for quality. Quality in public engagement, quality in governance and the relationship between elected members and officers, quality in the efficiency of process and budget management. But most of all for everyone in the town planning process to be focussed on delivering outcomes that support a high quality of life for all our communities.
Tell us about where you have come from and what has led you to be an associate/consultant on EELGA's TB:
I was born in Birmingham and educated in Solihull. I have worked continuously in local government since I started aged 16 years old as a cartographer. Over the years I worked my way up council organisations becoming a Director in 2005. I have worked at every level in local government and I understand how officers and elected members work. I believe there is one single objective that should unite everyone. That is the belief and the commitment to make lives better for the people we serve. I want to continue to do this as an Associate in the Talent Bank.
What sector of Local Government/industry do you work in:
Construction and Town Planning.
What are the most significant challenges relating to planning posed by Covid-19:
Covid 19 has presented two significant challenges. Firstly to the successful delivery of services, not only in relation to the disruption of normal business processes (for instance with staff absences, remote working or restrictions in face to face customer engagement) but also in relation to budget pressures and loss of income. But secondly, and more specifically in town planning, the challenges are all the above plus the uncertainty about the long term impact of Covid-19 on placemaking. For instance the extent to which digital services will permanently replace traditional delivery (for instance in the High Street).
How does planning influence positive change and results for Local Authorities:
For many local authorities town planning is one of the most high profile services and is seen as having one of the most direct influences on the lives of residents and business people. It is vital that town planning services engage meaningfully and effectively with everyone and that this engagement is not limited to those who normally get involved. Public engagement needs to extend across all ages, ethnicities, genders and social groups. I believe that local authorities should and must strive for excellence in planning delivery and in doing so should recognise that this cannot be achieved by regulation alone and it is right to aspire to excellence through such mechanisms as quality charters. I can work with local authorities and apply my experience to promote high quality town planning outcomes.
If you think Simon Payne's expertise could benefit your organisation, then express an interest on his profile. To see what other Associates we have available, visit the East of England Talent Bank.